■ Online Store Building
Open a successful online store with Webnshop. Grow your business. We can help. We provide expert ecommerce design, marketing and business services. Contact us if you are interested. Our starting price is AUD 590.
Contact us: Kate Lee Chief Designer 0450 009 368

- Standard type from AUD $2,000
- Advance type from AUD $3,000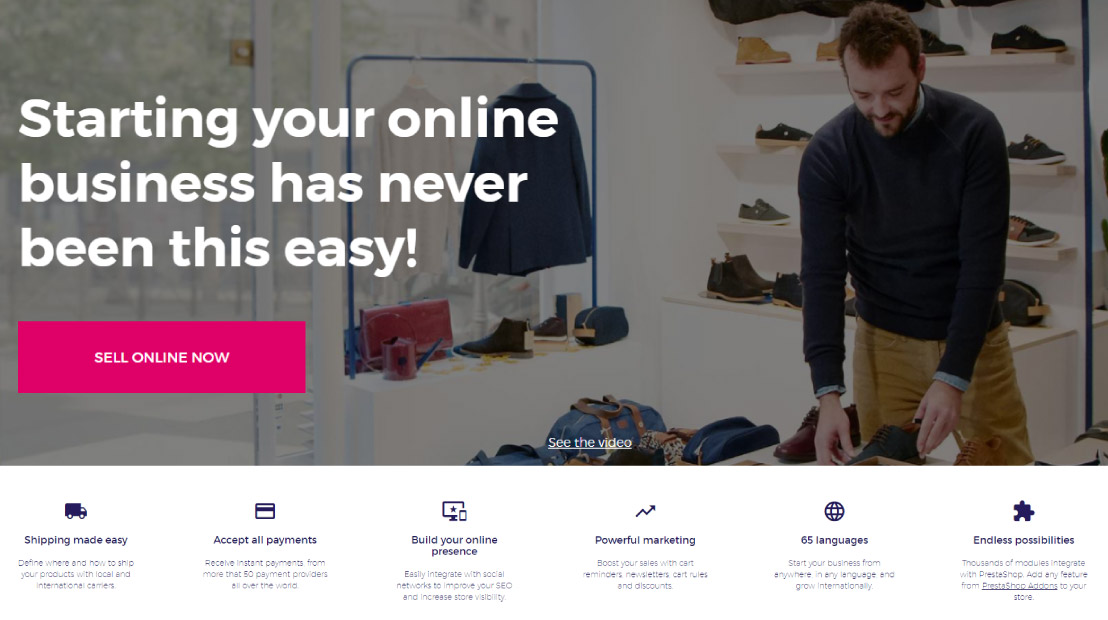 PrestaShop is the most reliable and flexible Open-source e-commerce software. Since 2007, PrestaShop has revolutionized the industry by providing features that engage shoppers and increase online sales. The PrestaTeam consists of over 100 passionate individuals and more than 400,000 community members dedicated to innovated technology. You can get started with PrestaShop by installing it through Softaculous right away.



Design your store
Find the right storefront that fits your brand. PrestaShop includes a standard theme so you can get started quickly. You can also find over 2,000 professional ecommerce templates across all industries in the Addons Marketplace. Our ecommerce templates will help you to design a beautiful online store experience.
Create your product catalog
Your catalogue is at the heart of your business. Build and manage a complete catalogue with thousands of products in hundreds of categories. PrestaShop has everything you need to organize your entire inventory of products and services.
Customize your shopping cart
Choose from over 50 payment solutions and gateways. Accept direct payments including all major credit and debit cards, electronic wallets, gift cards and more. Offer customers everywhere reliable shipping. Control logistics and discounts directly from your back office.
Be ready for mobile commerce
Stay close to your customers, wherever they go. The default template in PrestaShop comes with a mobile-optimized shopping cart. Your store will display beautifully on any device so your customers can browse and purchase everywhere. You can also manage your entire online store from your mobile device.
Source : http://www.prestashop.com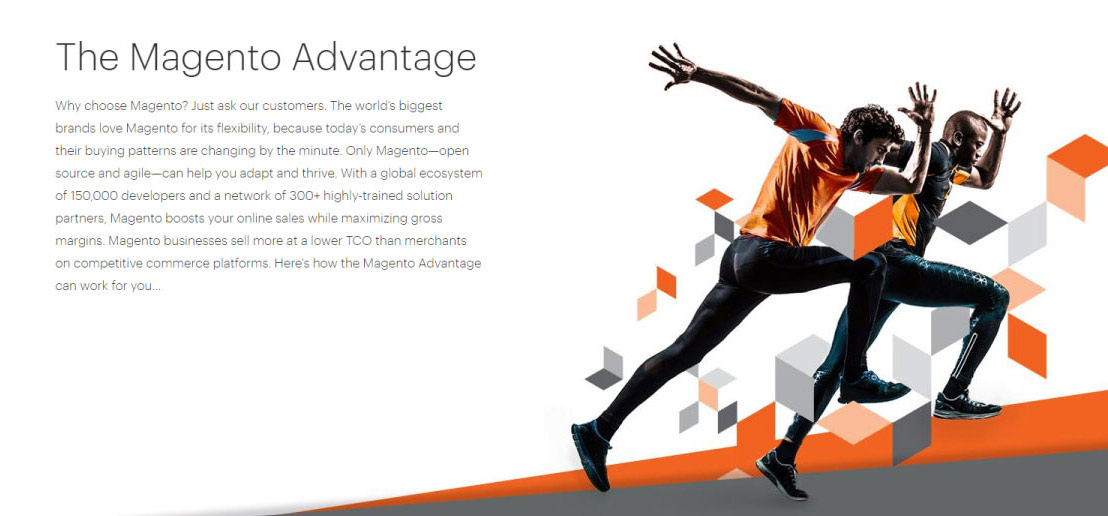 The Magento solution partner ecosystem is a trusted network of consulting companies and best-of-breed technologies that provide end-to-end project implementations from design, customization, configuration, integration, to deployment.


Why choose Magento? Just ask our customers. The world's biggest brands love Magento for its flexibility, because today's consumers and their buying patterns are changing by the minute. Only Magento—open source and agile—can help you adapt and thrive. With a global ecosystem of 150,000 developers and a network of 300+ highly-trained solution partners, Magento boosts your online sales while maximizing gross margins. Magento businesses sell more at a lower TCO than merchants on competitive commerce platforms. Here's how the Magento Advantage can work for you...

Flexible and Open Source Software
Consumer behavior is changing every day. Today's bleeding edge innovation will be tomorrow's table stakes. Magento gives you the flexibility to customize and extend your platform to create unique, differentiated branded experiences. Adapt fast, and stay ahead of changing customer buying patterns. That's the Magento Advantage.
An Army of Innovators
No IT team in the world can keep up with the changing face of commerce. With Magento, you get more than 150,000 innovators at your disposal. That's an entire ecosystem of developers working hard to keep you ahead of the game and your competition.
The Most Customizable eCommerce Platform
The Magento Marketplace is the world's largest and most versatile offering of customized and tested extensions. Marketplace offers the latest best practice extensions to extend your store's features any way you want.
Expert Implementation Partners
Magento is more than just a platform or product. The Magento Solution Partner Program provides trained and certified experts to help you get to market fast, create amazing customer experiences, and sell more.
Boost Online Selling, Shrink Costs
On average, merchants using Magento grow 3X faster than those on competitive platforms. They also realize a 50 percent reduction in Total Cost of Ownership. Sell more, save more, do it faster. That's the Magento Advantage.
Source : https://magento.com/